Product Specifications
The installed blade has been studied, tested and dimensioned for many years until its perfection, for the optimal use of the machine.
The blade has an important feature if used at low speed, i.e. the noise and dust are very low. In fact, it includes a suction nozzle through which it is possible to insert a vacuum cleaner to minimize dust.
The blade pull flywheel ensures constant, better tension and excellent cutting precision.
The SPH 505 R features two optimally dimensioned aluminium flywheels, which ensure long blade life.
For movement, the machine has a set of wheels and rudder, which make it easily transportable by a single person, or through the lifting ring located at the top of the machine.
Technical data
Sliding surface cm 71×106
Flywheel Diameter: 440 mm
Wheels Ø 200 mm – Weight Kg. 220
Geared motor:
single phase Kw 1,4
Blade Widia USA 41x3850mm
Widia upper and lower blade guides
Noise level:
Poroton cut 87 dB(A)
Gasbeton cut 74 dB(A)
Download technical documentation
The band saw reaches a cutting height of up to 50.5 cm and a maximum cutting length of 65 cm.
2 cutting modes
Manual bench push
the first is the classic push feed, or manually pushing the bench using the appropriate handles
Flywheel feed
the second is the flywheel feed, which allows high cutting precision without stress and preserves the life of the cutting blade, it must be used with a even and constant movement.
SPH 505 R size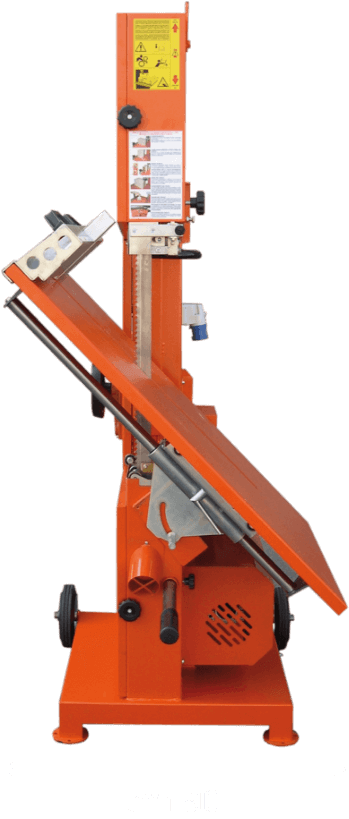 Technology at your service
The SPH 505 R band saw and the new technology for cutting Poroton and Bricks, in fact, is present in many European construction sites, but its versatility can also cuts materials such as Legnoblock, Isotec, Ytong, GasBeton, Foam Cellular Concrete.